We are preparing the 23nd edition of the yearbook Database Articles Price list Book Price list Banners
Building in Slovakia 2024
in cooperation with the Slovak University of Technology in Bratislava and its Faculty of Civil Engineering, the Ministry of Transport of the Slovak Republic and the Ministry of Environment of the Slovak Republic
We medially support
Dear ladies, gentlemen, business partners!
Publishing house INFOMA Business Trading, spol. s.r.o., is preparing, as part of its edition, the twenty-third edition of a professional publication focused on business entities and institutions operating in the field of construction in the territory of the Slovak Republic.
List of presented companies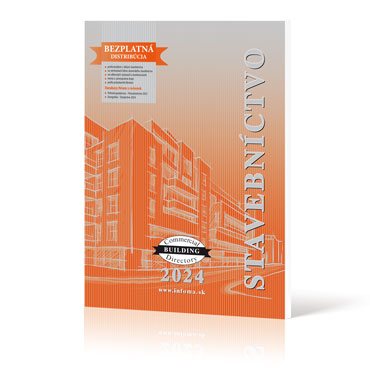 Our presentation offer for 2024
Price list of banners on the INFOMA portal
Do you want to place your company among important companies?
We will be more than happy to answer any questions you may have and help get your company in the book and online. You can get information on the phone number 0905 619 295 or the e-mail address infoma@infoma.sk
INTERNET is about quickly finding quality contacts. "We belong there"
Proof instead of promises. Enter these phrases into the GOOGLE search engine: firmy zo stavebníctva projektové kancelárie stavebné a hutné materiály strojárske firmy firmy z elektrotechniky firmy z energetiky
See a sample of advertising on the Internet of selected companies
What can we offer you?
presentation in this yearbook
placement on the database portal www.infoma.sk, which has long been in the TOP 3 on the Slovak market, in the GOOGLE search engine
distribution of the book version to the professional public
Free distribution:
construction professionals
at meetings of leaders of the Slovak construction industry
at professional exhibitions and conferences
self-government: cities and regions
according to client requirements
Technical informations
Language: Slovak
Circulation: up to 3000 pcs
media form: book, internet
Year: twenty-third
Date of issue: March 2024
Deadline: 28 February 2024
Building - Category in Site