Basic information

AGRO CS SLOVAKIA, a.s.
Production of peat substrates, mulch materials, fertilisers and grass seeds
Námestie republiky 5
984 01 Lučenec
Slovakia
Phone: +421 47 4373 279, 277
E-mail: agrocs@agrocs.sk
Web: www.agrocs.sk



ID: 36042161
VAT / Tax ID: SK2020081690

• Production of peat substrates, mulch materials, fertilisers and grass seeds
• Treatment and disposal of biological waste, except for hazardous waste
• Production of composts
• Agriculture and forestry
• Sale of non-processed agricultural and forest products for the purpose of their processing or re-sale
• Mining

Keywords: Substrates - production, gardening supplies, composting, bio-waste - processing, agriculture and forestry
AGRO CS Slovakia, a. s. - largest producer of gardening substrates in Slovakia
In 2015, the company AGRO CS Slovakia, a. s. celebrates its 15th anniversary of its founding. AGRO CS Slovakia, a. s. is a production and trading company, forming part of the multinational joint stock company AGRO CS, which runs business in Central and Eastern European countries and can be proud to hold the title of the "largest producer of gardening substrates in Slovakia". The company is the result of the four-year efforts of AGROFLORA after the producer AGRO CS found out that its products had reached a 50% share in the Slovak market. The range of products produced and offered by the company is much wider: substrates; crystalline, liquid, organic-mineral materials, materials with long-term effects, decorative materials, lawn programmes, and plant protection agents. Given this wide offer, the products for HOBBY customers are divided into the following product groups: AGRO, FLORIA, NATURA, KRISTALON, PRIMAFLORA and AB EXTRA. The company also covers PROFI customers, provides design services for gardens and parks or football and golf playgrounds, and cooperates with producers of vegetables and edible mushrooms, floricultural companies, as well as ornamental and forest tree nurseries.
While in 2011 the company´s sales reached EUR 2,780,000, this indicator raised to EUR 11,357,411 in 2014. This positive development is also confirmed by the area of the company´s site, which is 13 hectares at present. The company has 72 employees.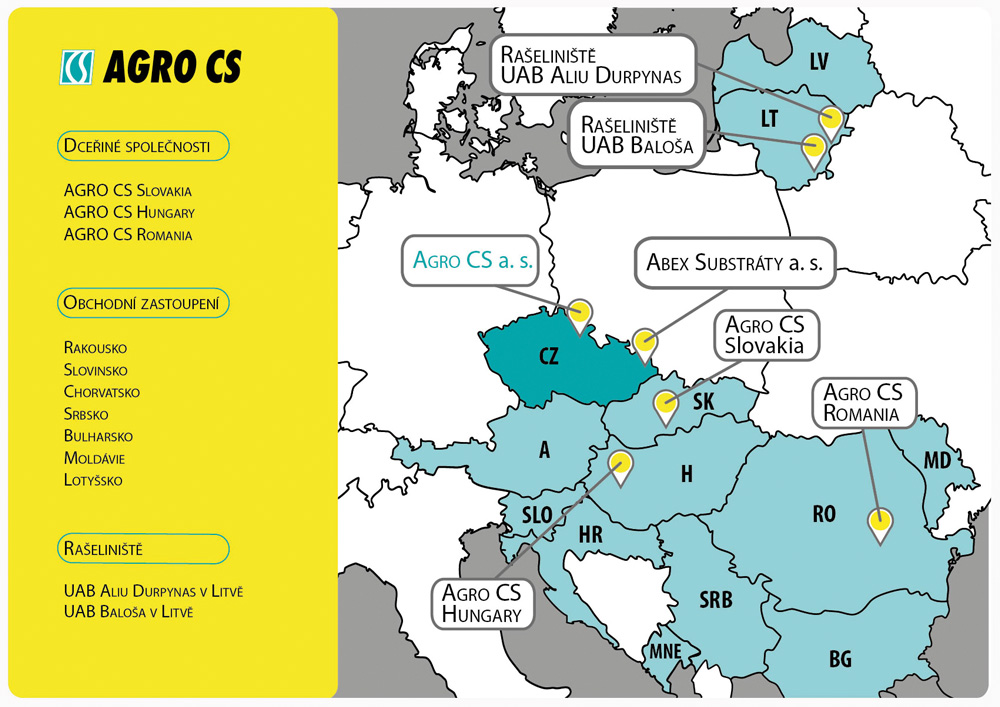 "We have long been a successful company that cares about its reputation and considers its human resources, its customers and brands to be its most important assets. We seek to develop harmonic relations with our employees and customers. We want our products to embellish our environment."
Ing. Vladimír Mužila, Vice-Chair of the Board of Directors
AGRO CS – verified partner for stable cooperation
The company´s achi­evements have been appreciated by independent entities. AGRO CS was awarded the prize of the magazine Recepty prima nápadů 2013, the Czech "Nobel Prize" Česká hlava 2013, and the magazine prize Receptář 2014. As part of its marketing support, the company is running its activities in the media sphere by providing cooperation in the production of TV programmes "Hurá do záhrady" and "Farmárska revue", broadcasted in the state TV channel.
Website: www.agrocs.sk www.agrocs.cz www.agrocs.hu www.agrocs.ro
Published: 19. 3. 2015