Basic information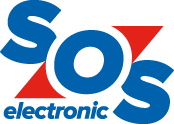 SOS electronic s.r.o.
Transnational distributor of electronic components for industrial production
Pri prachárni 16
040 11 Košice
Slovakia
Phone: +421 55 786 04 44
Phone: +421 55 786 04 75 - predajné odd.
Fax: +421 55 786 04 45
E-mail: info@soselectronic.sk
Web: www.sos.sk





ID: 31703186
VAT / Tax ID: SK2020484158

Contact person
Mrs. Michaela Pčolová
michaela.pcolova@soselectronic.com
+421 55 786 04 37

Our assortment:
• Communication modules
• Power supply
• Semiconductors
• Optoelectronics and sound
• Embedded systems
• Passive components
• Electromechanical components
• Cables, cords
• Measuring instruments
• Tools
• Enclosures and hardware
• Automation
• Laboratory and technological furniture

Keywords:
narrow band IoT, wifi modules, power supplies, RFID reader, GSM Antennas, GPS Antennas, terminal blocks, industrial SSD, industrial SD card, temperature sensors, humidity sensors, differential pressure sensors, gas sensors, particulate matter sensors, dust sensors, oled displays, LCD displays, embedded pc, panel PC, enclosures for electronics, AC fans, DC fans, oscilloscopes, soldering stations, communication modules, Optoelectronics, industrial displays, relays, connectors
We are SOS electronic
We are a transnational distributor of electronic components for industrial production. We specialize in verified world brands with design-in emphasis. Thus, we are with you already during the design and development of the devices. Customers are most grateful for the individual service and support. SOS electronic is a part of the strong German holding, Conrad Electronic.

Our TOP brands
Published: 8. 9. 2020