Basic information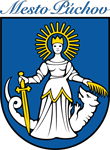 The Town of Púchov
Self-government, municipal office
Štefánikova 821/21
020 18 Púchov
Slovakia
Phone: +421 42 4650 811
Phone: +421 42 4650 886
Phone: +421 42 4650 834
Phone: +421 42 4650 864
E-mail: msu@puchov.sk
Web: www.puchov.sk

ID: 00317748

Contact person
JUDr. Katarína Heneková - primátorka

The Town of Puchov
Puchov is situated in the valley of the middle Vah river, bordering of Biele Karpaty, Javorniky and Strazovske vrchy.
Puchov is made up of 6 town parts: Horne Kockovce, Hostina, Hrabovka, Ihriste, Nosice, Vieska Bezdedov.
The town land registry represents the area of 41,4 km2, with 17 472 citizens (1. 1. 2021).
The first written reference dates back to 1243 when The King Belo IV. donated the town to person named Puch.
The most visited cultural events are Folklorny Puchov, markets – Puchovsky jarmok and Spring celebration or market in december – St. Nicholas market.
From the history are important Zupny dom (County House), Museum of Puchov Culture, and two churches – catholic and evangelical. Also there are more places to visit as Marczibanyi garden, pedestrian zone on Moravska street, Europark near the Vah river.
If you want further information, you can write us to sekretariat@puchov.sk or visit the official website www.puchov.sk
Published: 20. 9. 2022