Basic information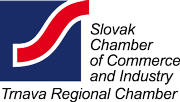 Trnava Regional Chamber of SCCI
Chamber of commerce region Trnava
Kapitulská 12
917 01 Trnava
Slovakia
Phone: +421 33 5512 588
E-mail: sopkrktt@sopk.sk
Web: www.sopk.sk/tt

ID: 30842654
VAT / Tax ID: SK2020815236

The Region of Trnava
Trnava Region
the region with its rich history, spiritual and cultural life, with fertile lowlands and protecting mountains, with rivers connecting people, the region of education, the region of good bread and good wine.
Location
Trnava region spreads across the south-western part of Slovakia. In the west it borders with the Czech Republic, in the south-west with Austria, in the south with Hungary. It takes to reach the capital Bratislava by car about 1 hour and the Vienna International Airport about 2 hours.
Trnava Region in numbers /Statistics 31. 12. 2021/
Number of population: 565 296
Area (km²): 4 146
Number of profit companies: 26 726
Number of physical persons /small entrepreneurs/: 40 210
Self-employed 37 654
Rate of unemployment (%): 4.16
Taking into account the big interest of investors the Trnava region is one of the most dynamic regions in Slovakia.
Transport and infrastructure
The region has a well-developed road and railway transport system. Railways and highways connect the region of Trnava with Bratislava, Czech Republic, Austria and Hungary.
Education
In Trnava region there are a great number of technical and vocational schools provide machinery, transport, electrical, chemical, agriculture, food-preparation and other kinds of education. Secondary schools are aimed at business and services. The Slovak Technical University in Trnava offers degrees in industrial technologies, technical materials, industrial ecology, management and applied information systems. The Trnava University and The University of St. Cyril and Method offer possibilities to study in a large scale of humanities and natural sciences.
The most important advantages of Trnava region
the growth of foreign capital in industry
the most using of arable soil
concentrated presence of foreign investors
qualified working force
many of industrial parks
suitable logistic position
concentration of national institutions
existence of three Universities
important cultural and historical sights
existence of geothermal and healing spas
Economy
The region of Trnava has its tradition in both kinds of production: industrial and also agricultural. The industrial production includes machinery, automotive, electrical engineering, chemistry, metal working, building construction, pharmaceutical industry, printing. The main industrial centres are these towns: Trnava, Skalica, Senica, Galanta, Piešťany and Hlohovec. The industry of agriculture and food is developed especially in the southern districts of Galanta and Dunajská Streda. The region of Trnava is a significant source of energy production for the whole area of Slovakia with its Nuclear Power Plant Jaslovské Bohunice and Water Power Plant in Gabčíkovo.
Foreign investors in Trnava region
Amylum Group (Holland), Schaeffler Skalica, spol. s r.o. (Germany), Stellantis, SAMSUNG Electronics Slovakia, s.r.o. (South Korea), Bekaert Hlohovec, a.s. (Belgium), ZF a.s. (Germany), SLOVENSKÉ LIEČEBNÉ KÚPELE, a.s. , Protherm/ Vaillant (Germany), Johns Manville Slovakia, a.s. (USA), Semikron, s.r.o. (Germany), Bodet & Horst s.ro. (Germany), JASPLASTIK-SK s r.o. (Hungary), Eissmann Automotive Slovakia (Germany), Wertheim, s.r.o. (Austria), Fremach Trnava, s.r.o. (Belgium), Boge Elastmetal Slovakia (Germany), Webasto-Edscha Cabrio Slovakia (Germany)
Trnava Regional Chamber SCCI
The Regional Chamber of Trnava is an integral part of the Slovak Chamber of Commerce and Industry, founded on January 1, 1997. The Chamber is a public – legal, non-profit institution, providing activities in order to support and protect its members in their home country and also abroad. The chamber is the major representative of entrepreneurs in the region.
Activities and services of Trnava SCCI
What we offer:
Information services
Services in foreign trade relations
Consultation and counceling services
Educational activities
Customs consulting
Certification agenda
Issuing customs ATA Carnet
SCCI Trnava Regional Chamber has the folloving sections: Agro-food Section, Electronics Section, Section of Transport, Section of producers of defensive industry SR.
Contact:
Trnava Regional Chamber
Slovak Chamber of Commerce and Industry
Kapitulská 12 , 917 01 Trnava, Slovakia
Phone: +421 33 55 12 588 / 744
Contact person:
Mrs. Eva Tomankova – Director (eva.tomankova@sopk.sk)
Mr. Peter Kovář – Area Manager (peter.kovar@sopk.sk)
Published: 12. 9. 2022